La Libertad, Chan-Chan
| | | |
| --- | --- | --- |
| | Related pages: | |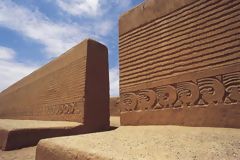 The existence of ancient inhabitants in La Libertad dates from 12.000 years ago, as we have the testimony of the archeological remains of the excavation in Pampas de Paiján, La Cumbre and Quirihua. Great cultures were born in the Chala and Yunga regions, like Cupisnique, Salinar, Virú and Mochica. This one is, with Chimú, one of the most important ones. Their realistic pottery, which portrait vases are now very famous, and also its pyramidal temples, that show important knowledge of the architecture field, belong to the Mochica - or Moche culture (3rd to 7th century AC).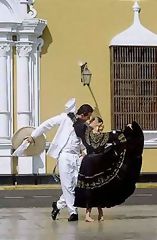 Later was developed here the Chimú culture (12th to 15th century AC.), which capital, Chan-Chan, is the biggest brick metropolis of the pre-Hispanic America and the second in the world. Chimú is known for its wonderful goldsmith's art and for its latest agriculture techniques as they built large aqueduct networks. In the 15th century, after a strong resistance, Incas conquered this kingdom.
In 1534, when Spanish arrived to the valley, the Trujillo city was founded. It became one of the main cities of the vice-monarchy. Trujillo was the first town in the north of Peru that declared its independence, on 29th December 1820. It is also known as the cultural capital of northern Peru because of the festivals that take place there, such as the Festival of the Marinera (January) and the one of the spring (September).