Current Peru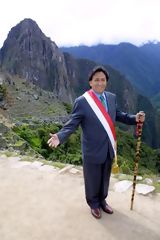 In April 2000 Alberto Fujimori ran for a third mandate against his main opponent Alejandro Toledo, economist. Because of excessive frauds occurred during the first round of voting, the opposition candidate called the people for boycott. Fujimori was reelected and took again the power on July 28th. A few months later were revealed, some videos, showing the president's right hand Vladimiro Montesinos, giving money to congressmen in exchange for political favors. This questioned the current power and the people and the international pressure forced Fujimori to call for new elections.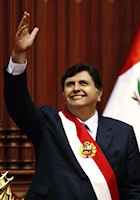 Because of a stronger pressure, Fujimori ran away to Japan. The president of congress, Valentin Paniagua, became then President of the republic par interim and set a date for the new election on April 8th, 2001. Alejandro Toledo ran again, of course, with a main opponent, Alan García, president from 1985 to 1990, prosecuted by justice for having embezzled country's money, exiled in France and then in Colombia. Toledo got 36% of votes against 24% for García. The second round is set on June 3rd this year.
With Toledo a new democratic era begins in Peru. Thanks to neoliberal measures and the continuity of economic reforms initiated by the previous government, it is a period of relative stability in the country. Since then, economic growth has not stopped, mostly encouraged by the expansion of the building, mining and agricultural sectors.
In 2006 Toledo's government ended and former president Alan García won the elections. This second mandate, twenty years later, will be the time for revenge for president García. The country is in development, poverty and unemployment are reducing. Peru becomes an emerging reference in the region. The country resists international economic crisis of 2008-2009 and achieves a strong growth of nearly 9% in 2010.
Five years later, en 2011, Toledo runs for a second term, along with Keiko Fujimori, the former president Fujimori's daughter. However, against all expectations, their rival the nationalist Ollanta Humala wins the election. He obtained a large majority on the second round, in a country divided between economic growth and extreme poverty. Now that the country is doing good and keeps growing, the president is dedicated to trying to improve the conditions of the poor with important social measures.