Valentín Paniagua (2000-2001)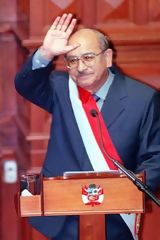 Born in Cusco in 1937. He is a lawyer specialized in constitutional and administrative law and practices now as a University professor. He speaks four languages: Spanish, English, French and Quechua; he is married and has four children.
Politically active since an early age, he was President of the Students Federation of Cusco and Of Peru. At 26 years old (in 1963), he became the youngest member of Parliament (for the Christian Democrat Party). During Fernando Belaúnde Terry 's first mandate (between 1965 and 1966), he was Secretary of Justice and Cult. Between 1966 and 1968, Paniagua joined the party of President Belaúnde, Acción Popular, whose government was interrupted by a military coup d'état in 1968.
In 1980, when the democratic government was reestablished, Paniagua was elected member of the Parliament representing Lima for the period 1980-1985. He was Chairman of the House of Representatives between 1982 and 1983 and was Secretary of Education in 1984. Since 1999, he is the General Secretary of the party Acción Popular. He was elected Congressman in the general elections on April 8, 2000, getting the place 118 among 120. Following the political crisis generated by the controversial election of President Alberto Fujimori and after his resignation from Japan, followed by the resignations of the two vice-presidents (Francisco Tudela and Ricardo Márquez), Valentín Paniagua was elected by general consent as the right person to chair at Congress. As the position of President of the Republic became vacant, Valentín Paniagua, acting then as Chairman of Congress, assumed it as an acting President. Paniagua passed the mandate on July 28, 2001 to the legitimate elected President on the elections holded that same year, Alejandro Toledo.
He remained politicaly active until 2005. He died in Lima on October 16, 2006, following a pulmonary infection.