Alan García Perez (1985-1990 / 2006-2011)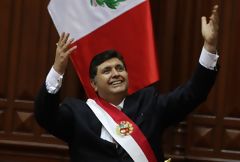 He was born in Lima on May 23, 1949 in a middle-class family.
His father and his mother were active militants of the party American and popular revolutionary alliance (APRA), political party where his father was the secretary.
Since he was young, Alan García has devoted himself to his studies and to the party. He is a professional lawyer who studied at the Pontifical Catholic University of Peru (PUCP) and at the Major National University of San Marcos (UNMSM). Later, he went to Europe to make his doctorate studies in Spain and in France.
Since he returned to Peru, he dedicated his life to politics and was elected congressman in 1980. He was a very charismatic young man and became the youngest Peruvian president by being elected in 1985 when he was 36 years old.
His first government was not successful. In addition to the fact that he inherited a country with serious economic and political problems caused by terrorism and economic decisions of his predecessors, he took unfortunate measures for the country. By the end of his first presidency, in 1990, the country was suffering the worst inflation of its history, an increase of poverty and the scourge of terrorism in the whole country.
In 1992, during the first government of Fujimori, García left for France, exiled after being accused of illegal enrichment and for his responsibility for the killings consequence of mutinies in some prisons.
He comes back to the country in 2001, after the accusations agaist him prescribed. He becomes active in the country's political life. In 2006, He runs again for president and is elected on the second tour against Ollanta Humala, the candidate of the Nationalist party.
His second presidency ends in 2011 and he leaves a country in good economic and political shape because he followed and improved the measures implemented by his predecessors.