Arequipa
| | | |
| --- | --- | --- |
| | Related pages: | |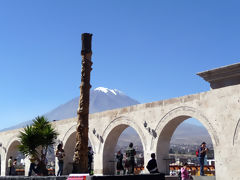 Arequipa's department has an important historic past that comes from 5.000 years B.C. according to the testimony of 400 archeological monuments of cave and rock art found until now.
The Incas founded two ethnics established in the Colca Valley: Collaguas and Cabanas. They made of this region the garden and the breadbasket that supplied the empire center. Magnificent terraces are the remains of this colossal work.
Villa Hermosa of Arequipa was founded, in the old area of San Lázaro, in 1540.
Its bourgeoisie has given to Peru some of its most remarkable leaders, which have played an important roll in the politics and culture of the country.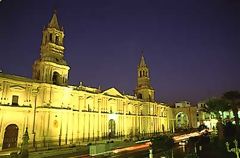 Located on a seismic area, Arequipa city has been partially destroyed several times. This is what gives the architecture its characteristics: large walls with important buttresses, lowered cupolas. The use of wood is reserved to the main structure elements. Arequipa was a town of stop between the coast and the Andes, which made of it the silver road between Spain and Potosi, an important colonial city as testify its monuments. The railroad construction in 1870 united Arequipa to the Altiplano and Mollendo harbor.
A large part of the city is built in white volcanic stone (sillar- volcanic ashes that came from the Chachani volcano), which gives it a lot of charm (it is even called "The white city"). Besides, it is located in a magnificent site, below the Misti, a gigantic inactive volcano that has 5.821 m. of height.
Arequipa is a great city for walking. A lot of great architectural details like the banks that occupy ancient private houses, or little palaces in colonial style. A lot of churches, convents and colonial houses (casonas).