Peruvian Cordilleras
Cordillera

Latitude
S

Longitude
W

Ice-covered
area
(km2)

Extent
(km) and
orientation

Highest
elevation
(m)

Drainage
basin

Data
source

Blanca

8░08'
9░58'

77░00'
77░52'

723.40

200

NW

6,768

P-A

1

Huallanca

9░52'
10░03'

76░58'
77░04'

22.41

19

NW

5,480

P-A

1, 2

Huayhuash

10░11'
10░26'

76░50'
77░00'

88.11

26

NW

6,634

P-A

1, 2

Raura

10░21'
10░31'

76░41'
76░50'

57.03

20

NW

5,727

P-A

1, 2

La Viuda

10░33'
11░37'

76░07'
76░42'

28.5

130

NW

5,780

P-A

1, 2

Central

11░37'
12░26'

75░30'
76░18'

176.3

100

N

5,817

P-A

1

Chonta

12░37'
13░07'

75░00'
75░30'

42

50

N

5,305

P-A

3

Huanzo

14░30'
15░01'

72░50'
73░15'

158

57

NW

5,445

P-A

3

Chila

15░02'
15░26'

71░43'
72░37'

52

80

E

5,556

P-A

2, 3

Ampato

15░24'
15░51'

71░51'
73░00'

105

140

E

6,426

P

2, 3

Volcßnica

16░07'
16░33'

71░12'
71░33'

15

50

NW

6,100

P

2, 3

Barroso

16░51'
17░37'

69░45'
70░30'

20

110

NW

5,741

P

2, 3

Huaytapallana

11░47'
11░56'

75░00'
75░05'

35

17

NW

5,720

A

3

Vilcabamba

13░10'
13░27'

72░30'
73░15'

173

85

E

6,271

A

3

La Raya

15░10'
15░26'

70░36'
71░14'

88

60

E

5,489

P-A-T

2, 3

Huagaruncho

10░14'
10░19'

75░57'
76░03'

48

10

E

5,879

A

2, 3

Urubamba

13░08'
13░17'

71░58'
72░16'

23

30

NW

5,750

A

2, 3

Vilcanota

13░39'
14░29'

70░31'
71░20'

539

120

N, W

6,384

A

3

Carabaya

14░00'
14░22'

69░38'
70░19'

100

75

NW

5,780

A-T

2, 3

Apolobamba

14░35'
14░45'

69░14'
69░34'

102

35

E

5,852

A-T

2, 3

Total

2,596
1: Data from Peruvian glacier inventory. Source: vertical aerial photographs.
2: Data published in Revista Peruana de Andinismo.
3: Data from Landsat images.
Drainage bassin: P: Pacific, A: Atlantic, T: Titicaca
---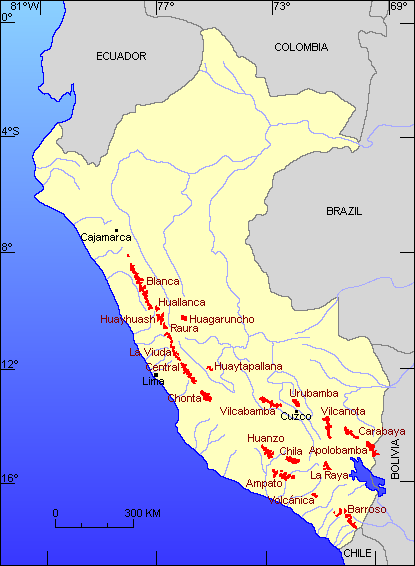 Distribution of the 20 glacierized cordilleras of Peru shown in red and the location of some of the principal rivers.